Labeled Recycling Receptacles, Trash Containers Make Recycling Easy
To recycle or not to recycle? Nowadays, that often is not even an option that consumers have to ponder. Airports, restaurants, recreational outdoor spaces and other public areas have increasingly included trash containers and recycling receptacles so pedestrians can make the moral and eco-friendly decision to have their bottles, paper and other materials recycled or, in the case of trash, thrown away.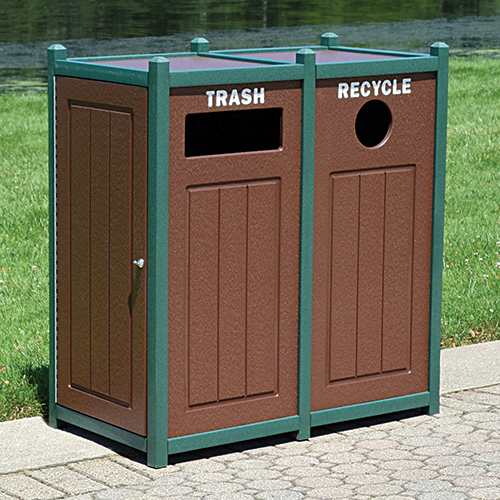 Double Side-Load Recycling Container with Side Access Doors.
In recent years, you even have seen facilities and spaces take their recycling efforts one step further by providing multiple recycling receptacles at one location that are clearly marked with labeling that call out different recyclable material types. This helps facilities educate consumers on what materials can be recycled and also helps separate different recycled materials. This eases sorting at recycling centers where this option is available.
Recycling receptacles with labeling also help in preventing "recycling contamination," a scenario where a recycled object is placed with the wrong material grouping. There are multiple problems associated with recycling contamination. Take for example a plastic bottle that is tossed into a bin designated for paper or one meant for trash. Once this batch of materials reaches a recycling center, this otherwise recyclable bottle may be sent to a landfill since it was not grouped in the appropriate receptacle. In some cases, entire recycling loads can be completely rejected when contamination occurs.
The efforts to reduce contamination is gaining steam. In fact, the U.S. House of Representatives in June 2019 unanimously approved an amendment to a bill calling for the creation of a national recycling strategy by the Environmental Protection Agency (EPA). One of the many objectives of the amendment is to eradicate contamination and streamline recycling processes, as reported in multiple media outlets.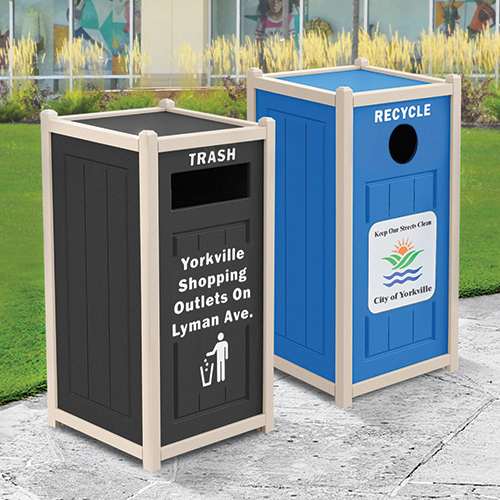 Two-Tone Panel Custom Display Disposal Containers
At TreeTop products, we offer an extensive line of trash containers and recycling receptacles that fulfill multiple needs for facilities and spaces, including the decrease of contamination. Depending on the recycling center you work with and how recycling is sorted, customers can choose two receptacles that are placed side by side with the labeling "Trash" and "Recycling" or can utilize multiple recycling receptacles with additional labeling such as "Cans," "Paper," "Plastic," "Glass," "Waste," "Organics," or "Compost." Each separate receptacle also has a unique hole opening to help customers identify which option they should choose. Again, this educates consumers on what materials can be recycled and which receptacle these materials should go in.
Additionally, our trash containers and recycling receptacles are available in multiple material types to fit your facility, including recycled plastic, stainless steel and powder-coated steel, among other materials. You also can choose between top load and side load options, with the availability of rain lids made of plastic or metal. On some of our receptacles you can even brand your product by adding your custom art that displays a name, image or logo.
All products are highly durable and attractive, giving you attractive receptacles that can hold up to high-use areas in both indoor and outdoor environments. Some of our receptacle products are highly customizable and are guaranteed for 50 years. Maybe most importantly, our products help consumers make eco-friendly decisions and recycle items properly in your facilities and spaces.
Learn more about our trash containers and recycling receptacles on our website.