Commercial-Grade Plastic Makes Providence a Durable Outdoor Furniture Collection for all Seasons
Here at KirbyBuilt, we manufacture durable outdoor furniture products made of multiple material types including commercial-grade plastic that is crafted using the latest technologies and processes. One of our most popular plastic outdoor furniture collections is Providence, a line of highly durable picnic tables and benches that stand up to all weather conditions while remaining attractive. So, what makes the plastic on our Providence Collection superior to other materials on the market? Read actual inquiries we get from customers regarding our Providence Collection in the FAQ below.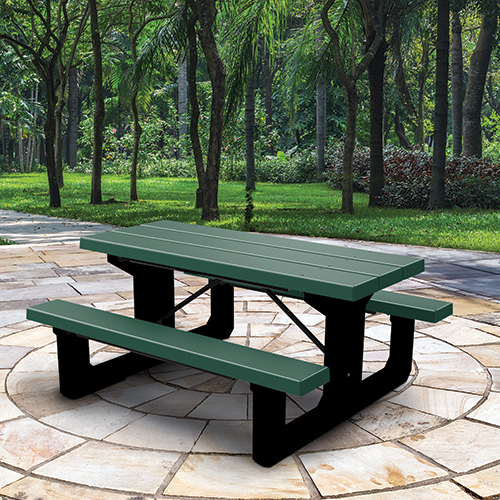 Providence Walk-Thru Picnic Tables
How is the plastic on Providence made and why is it so durable?
The seats, tabletops and backs on our Providence Collection products are outdoor furniture solutions not only because of the plastic they are made of, but also because of the process used to make them. First, Providence is produced using premium plastic that is injection molded, ribbed and fortified. This makes the products extremely durable, ensuring they endure all outdoor conditions and the constant use by those who visit your facilities or spaces. Also, Providence's plastic lumber is supported underneath by a honeycomb mold which adds strength without the addition of unnecessary weight. However, that doesn't mean the products are any less strong than the other plastic outdoor furniture we produce. In fact, our Providence products are backed by a 50-year guarantee against breakage.
I see the photos, but what does it look like up close?
Another advantage of our Providence plastic outdoor furniture is its appearance. Although many plastic furniture selections on the market look like cheaply made products, our Providence plastic has a wood-like appearance and wood-grain texture making it attractive on top of being highly durable. In addition, our Providence products are available in multiple nature-inspired colors so you can pick the product to perfectly match your environment. In fact, we have color swatches that we can mail to customers upon request.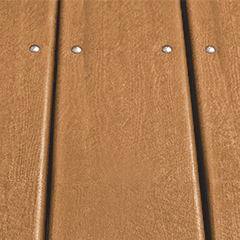 A closeup look at the Providence plastic lumber.
How does it perform outside?
Although it does have a wood-like appearance, our Providence plastic lumber does not have the problems that are often associated with outdoor wood products. That means it will not split, crack, peel or break. If it does, we will simply replace it. Our 50-year guarantee promises that. It's also easy to clean. Just use soap and water to clean the products and your Providence plastic outdoor furniture will maintain its attractive appearance well beyond your expectations.
Where can it go?
Providence Collection products can go practically anywhere. Our plastic picnic tables, plastic park benches and plastic outdoor tables can add an aesthetic appeal in all spaces. However, due to their extreme durability and nature-inspired appearance, Providence products are designed to be placed outdoors at locations such as campgrounds, resorts, schools, parks and recreational areas, malls, corporate campuses, city walk-ways and other outdoor environments. As we mentioned, these products are guaranteed not to split, crack, chip or break, or we will replace them.
Where are Providence Collection products manufactured?
Our Providence Collection is proudly manufactured in the United States.