Shy 1st Grader Fundraises for "Buddy Bench" to Help Students Make Friends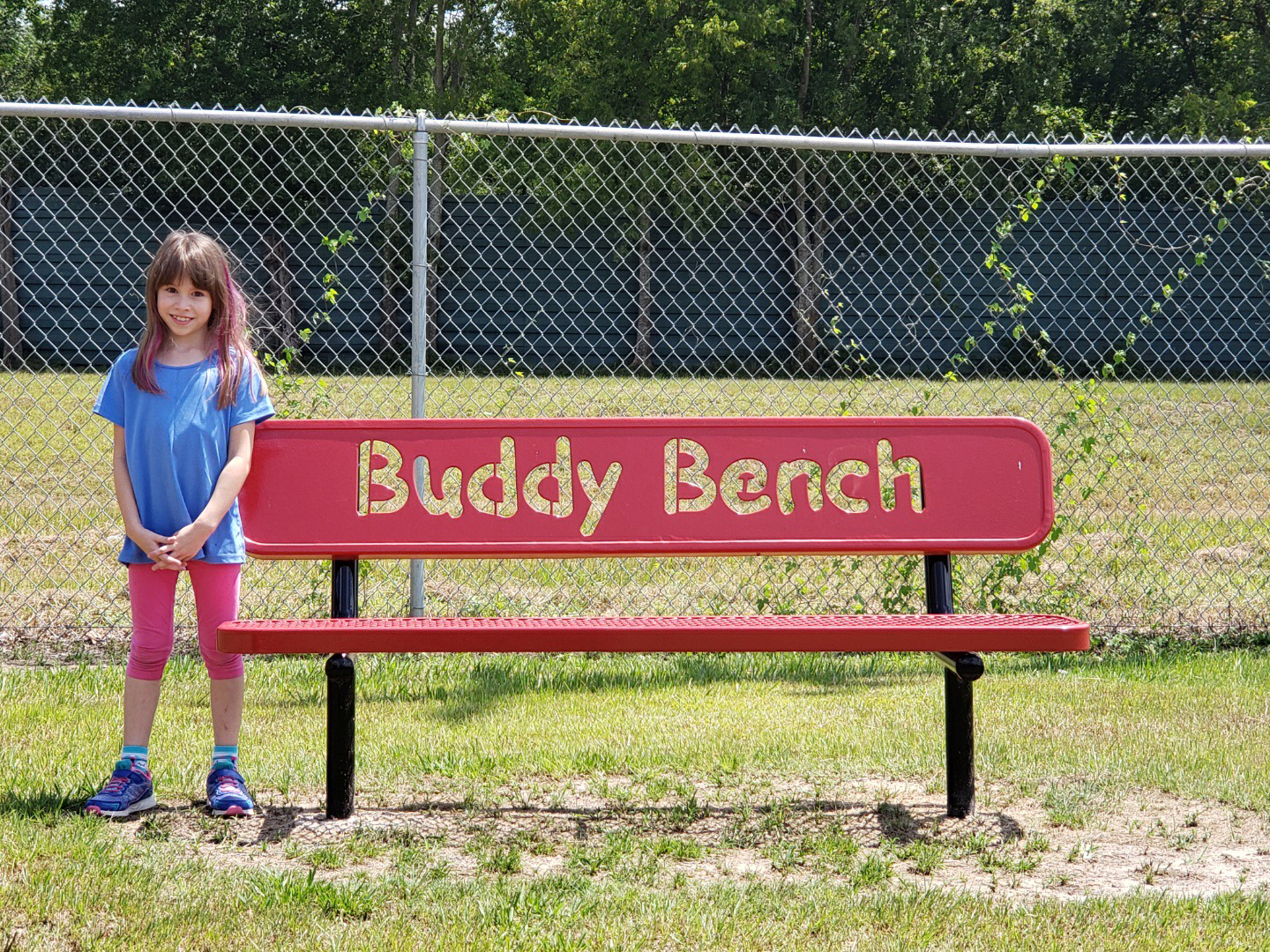 Cadence Fraga on a bench.
Cadence Fraga was an anxious, shy first-grader when she started classes at Northhampton Elementary in Klein, TX in 2018. She attended a much smaller, private school for kindergarten, and the transition to the larger public elementary school filled her with concern that she would be left without any friends. But she took that concern and channeled it into action. And before long she began a journey raising money to assist students just like her at three other schools who might need help making new friendships.
"She didn't know anyone at her new school, which can be a little intimidating to kids that age. Especially those who tend to be a little anxious and shy to begin with," said Cadence's mother, Dani Wilson. "Fortunately for her, and for so many others, the school had something that helps kids just like Cadence who just want to make friends."
Buddy Bench to the Rescue
That "something" is a Buddy Bench, a place on playgrounds for students to sit if they are lonely or have no one to play with. When other students see someone on the bench, it is an indication that the child is looking for a friend and should be asked by someone to join in the school-time fun.
"Before school started, we went to see the school and let her get familiar with it," Cadence's mother said. "There she saw the Buddy Bench, and I explained that not only could she sit there, and a new friend would come get her to play, but that she also could do the same if she saw a lonely child on the bench."
Within the first week, the school bench – often referred to as a friendship bench – did just what it is designed to do. Not only did Cadence make friends after sitting on the bench, she returned the gesture and made even more friends who themselves were looking for kids to play with.
"It happened pretty quickly," Cadence's mother said. "Two of her classmates approached her and asked her to play. I remember it being a very good day for her, and she was very excited after school. She is still friends with those two generous students this year in second grade."
A Girl on a Mission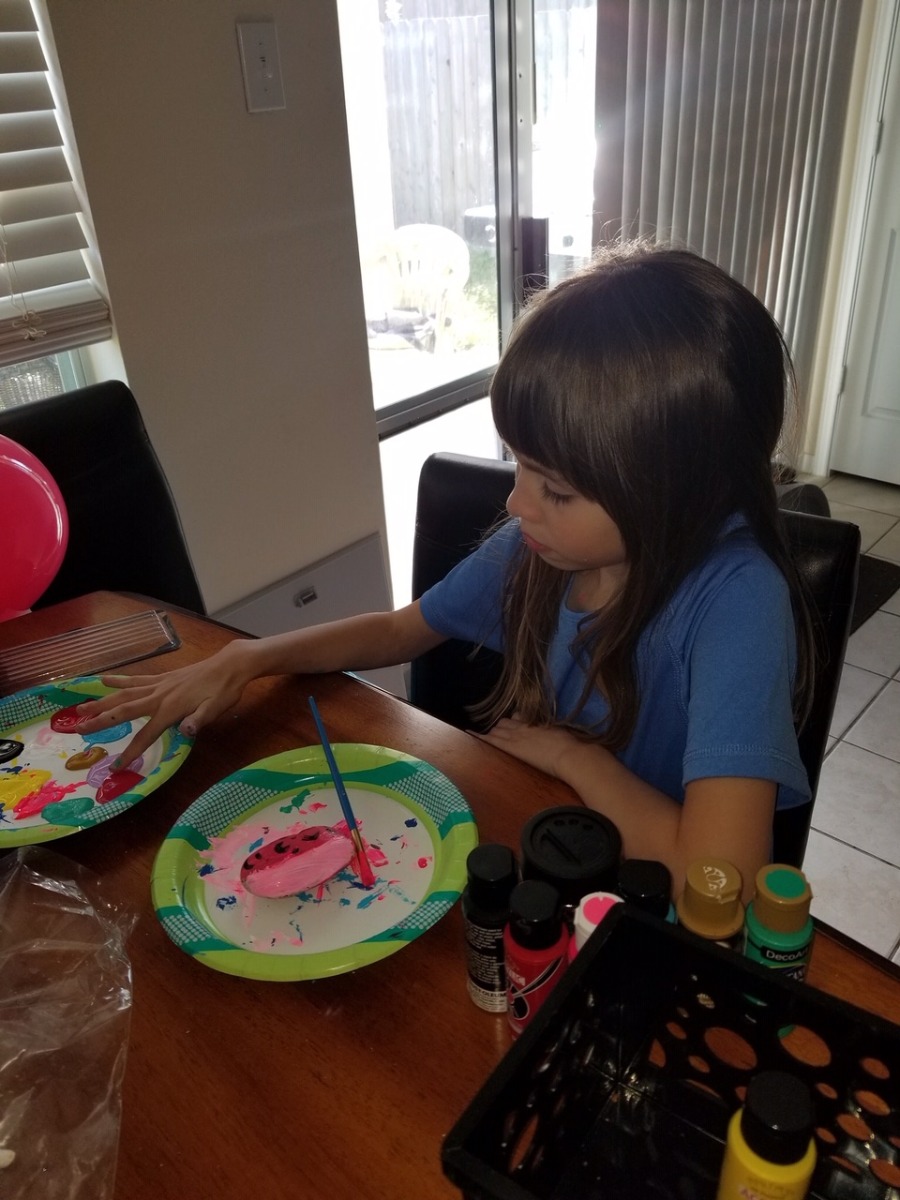 Cadence Fraga on a mission.
But the heartfelt story doesn't end there. While visiting nearby Epps Elementary to see her aunt Casey Wilson, a fourth-grade teacher at the school, Cadence asked where their Buddy Bench was located and found out that there wasn't one.
"It really helps at my school, and they should have one, too," Cadence said about her visit to Epps Elementary. "It helps people make new friends. Every school should have one, and it's sad that they didn't."
Cadence then made it her mission to ensure the school got one. The big-hearted youngster sold hot dogs, set up lemonade stands and sold rocks that she had painted. She even gave up her birthday money, all with the goal of raising $500 so that Epps Elementary had its own Buddy Bench and lonely kids there had a way to make friends. And through much hard work and dedication, she met her goal, and the school started the 2019-20 year off with a bench of its own.
"The Buddy Bench has been a huge success at our school," her aunt Casey Wilson said. "During the first quarter of the new school year, the kids put the Buddy Bench to good use. We have many students with different stories who use the Buddy Bench – students who are new to our school, their best friend may be out sick, or they are just looking to make a new friend. Through the bench, students are being kind and making lasting friendships."
The TreeTop Products Buddy Bench
After researching products, Cadence and her family decided to purchase the bench from TreeTop Products. These buddy benches for schools in particular are constructed of heavy-duty, plastic-coated steel, making them maintenance-free and resistant to outdoor conditions. The product is also backed by a 20-year guarantee and is adorned with kid-style lettering on the bench back with the words "Buddy Bench." The company also offers Buddy Benches made of 100 percent recycled plastic with a 50-year guarantee against breakage.
And there are students just like Cadence all across the country who are benefiting from Buddy Benches. An overwhelming majority of students who participated in a study published in the International Electronic Journal of Elementary Education claimed the bench "helped students at my school make more friends."
"The Buddy Bench is wonderful," Cadence's mother said. "The color matches the school colors. The materials are great, and installation was easy. The bench materials, price, colors and delivery time checked all the boxes perfectly at TreeTop when we were looking for one to order last year. TreeTop was in constant contact with us and updated us at every step, even through the holidays. There was great support from everyone involved."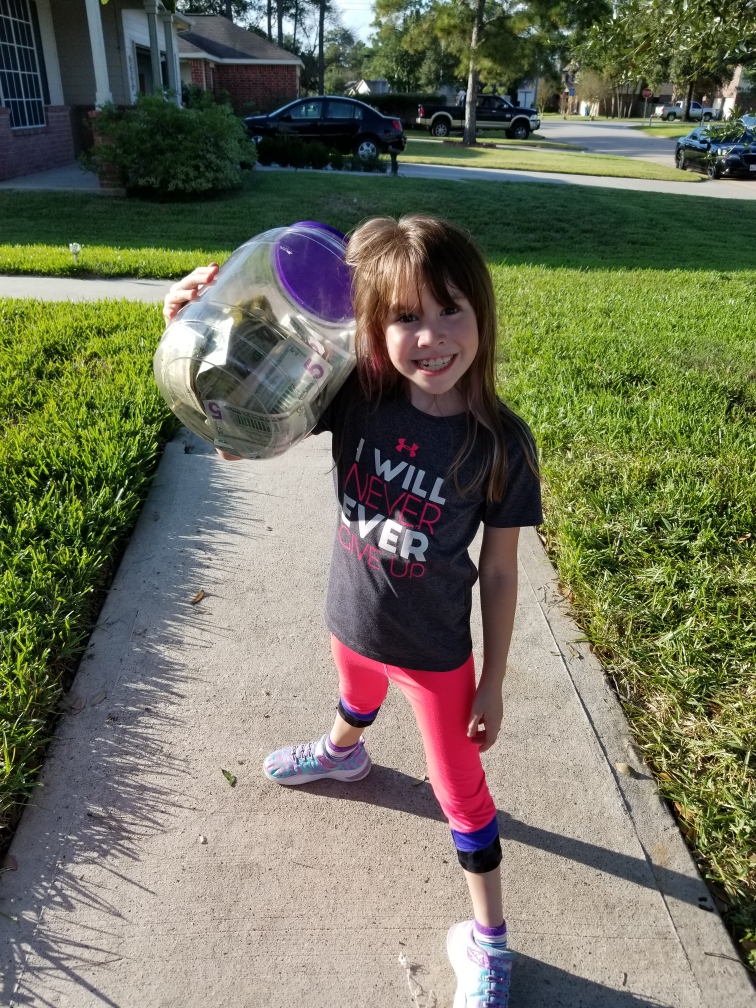 Cadence Fraga continues to fundraise.
No Stopping Her Now
So, what did Cadence do once her charitable mission was accomplished? Upon finding out that many other local schools didn't have Buddy Benches, Cadence's kind and entrepreneurial spirit rose to the challenge again, and she began fundraising for two more benches that would be placed at two additional schools.
"We thought this would be a onetime event," Cadence's mother said. "Her Aunt Casey reached out to a couple of the other schools in the district, and the principals and teachers were ecstatic at the possibility of getting a bench. She went back to painting rocks and she had a couple more hotdog and lemonade stands. We thought it was important that Cadence earn this money and not just take donations. We are very proud of her."
Now that she has raised enough money, Eiland and Nitsch Elementary Schools in Texas will be the recipients of Buddy Benches for their playgrounds.
"This has definitely helped her confidence," Cadence's mother said. "She doesn't necessarily like being the center of attention, but she feels super proud when someone comments on her helping other kids. We do work with other charities, mostly for animals and kids, and I'm finding that through helping others, it is helping her anxiety and shyness. It's almost as if her need and desire to help others blocks the part of her brain that tells her to be scared or anxious."
This buddy bench helped Cadence and her school. Let it help yours too. Learn more here.